Environment Control System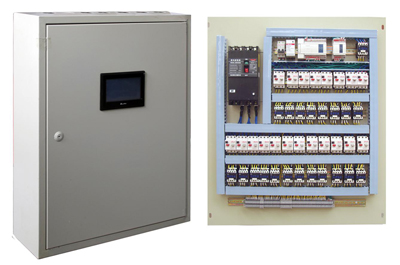 Keywords: Environment Control System
Introduction
Control panel
8 ways 3.3KW exhaust fans can be controlled
1 way 1.1KW water pump can be controlled
1 group of alarm
1 way of 3KW (and bellow) auto air flow window can be controlled.
1 way of 6KW (and bellow) curtain can be controlled.
3 way of 2.2KW speed-adjustable fan can be controlled.
With leakage protection, over-load protection, phase leakage protection.
Environment Controller
1 way temperature control, can control inside temperature automatically.
This can control 14 groups, include 8 groups of exhaust fans,
1 group of cooling pad water pump, 1 group of alarm, 1 group of air inlet,
1 group of curtain, 2 groups are for back up.
This can control 3 unit of frequency converter, 1 group for back up.
With parameter automatic recovery function, it can recover acquiescent parameters.
With 485 interface, it is convenient to connect with internet.
7 touch screen human-computer interface, Chinese-English animation simulation display,
or LCD touch human-computer interface, Chinese display.